Powerflex Lower Torque Mount Poly Bush For Hyundai I30N / Elantra N 2017 Onwards
MOCR083
£3102

£31.02
Tax included.
Shipping
calculated at checkout.
---
---
Powerflex Lower Torque Mount Poly Bush For Hyundai I30N / Elantra N 2017 Onwards
Vehicle Fitment:
Hyundai I30N 17-

Elantra N 17-
Contents (parts per pack):
2 x Polyurethane Bushes
1 x Sachet of PTFE/Silicone Grease
Product Description

PFF26-120 replaces the original rubber bush for increased engine stability under acceleration and boosts the torque reaction of the mount for improved acceleration response. With virtually no increase in NVH, reduced wheel hop and a more direct transition of power to the road, it is suitable for standard and mildly tuned vehicles.
To suit the variable requirements of the i30N driver, our new part is available in three different ratings of shore hardness to balance performance requirements. Whilst an increase in material stiffness will reduce engine movement, additional noise and vibration may be felt. 
Yellow Shore A 70 is an upgraded replacement for the original bush, recommended for fast road use
Purple Shore A 80 is a stiffer material to suit higher powered cars that may be used on the track 
Black Shore A 95 is our Black Series part for extreme Track and Motorsport applications for ultimate engine stability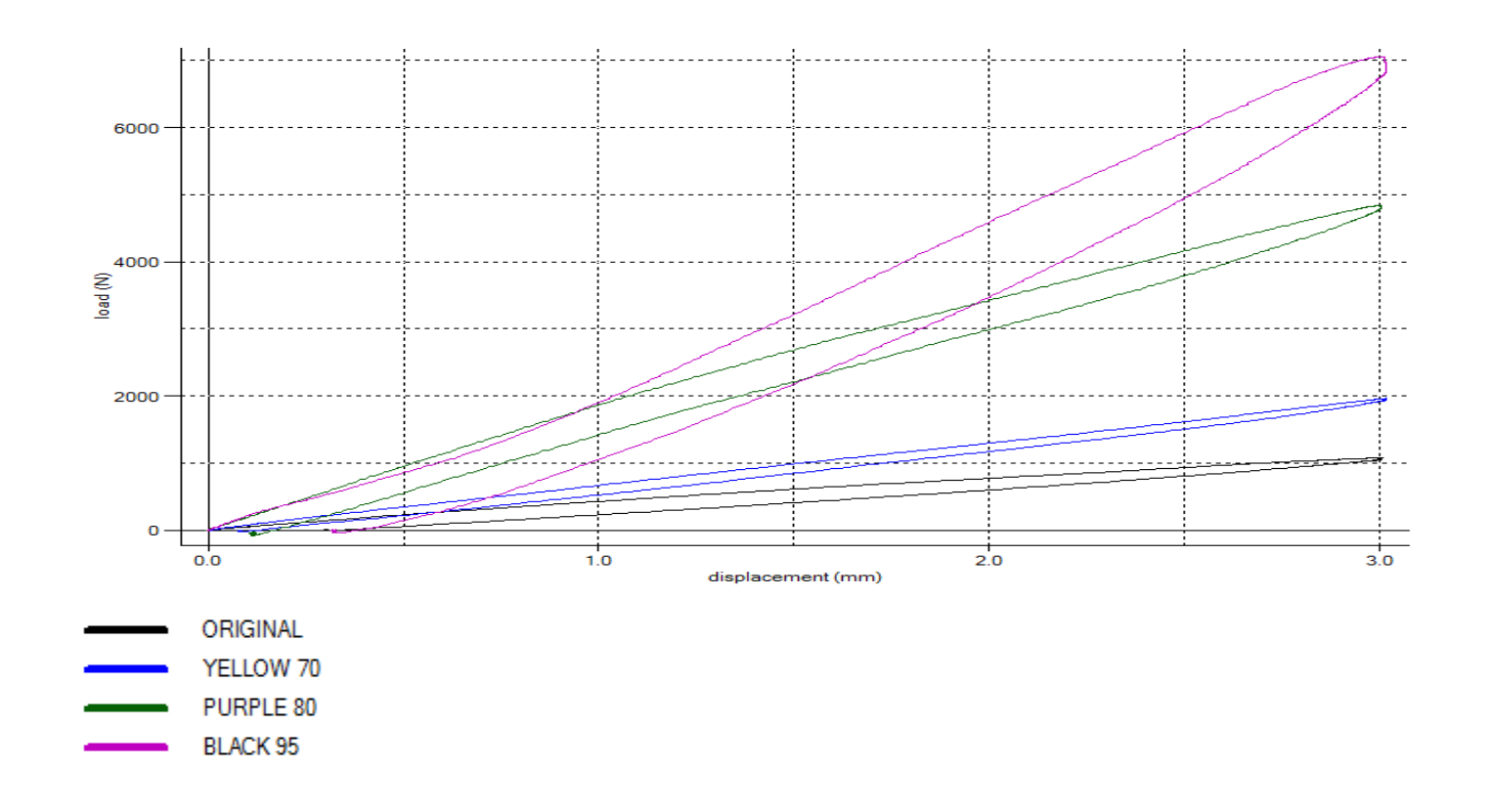 Graph showing Load vs Displacement of each of our materials compared with the original, rubber bush
Why use Powerflex?
Polyurethane has been with us as a specialised plastic for some thirty years. However recent advances have now made it possible to engineer very special properties into this exciting material. Suspension bushes are some of the most highly stressed components fitted to a motor car. They undergo enormous strains and in the most arduous of conditions with no maintenance or lubrication. 
The material they are manufactured from is a rubber compound containing natural products which deteriorate with age. It becomes softer and more pliable, resisting the forces placed on it less and less. Therefore allowing more and more movement of suspension components and offering less and less control over the suspension geometry.

This in turn causes accelerated tyre wear, braking instability and poor handling. This is the single biggest reason you can instantly tell the difference driving a three year old car compared to a showroom new one. However even new cars will benefit from POWERFLEX bushes because of their superior design they offer much more effective control of the suspension components to a much greater extent than normal rubber items.
POWERFLEX for prolonged tyre life.With the technological advances in this material it has been possible to overcome the common problem associated with harder bushes which is increased noise. By correctly engineering the polyurethane compound, bushes can be made 25-30% stiffer than new rubber items but with exactly the same noise absorbing properties. 
POWERFLEX bushes make sense.
POWERFLEX for improved performance.
POWERFLEX for increased safety.
Distributed by Haz Motorsport

---
We Also Recommend
---